5 best hard drives for Windows 11 [Price & Capacity]
Introduction
Finding the best hard drive requires more than just Windows 11 support; it must also suit your needs in terms of storage space, speed, and other factors.
Many users praise HDD (hard disk drive) for its significantly high capacity and low price. Despite being slightly sluggish compared to SSD, HDD comes in handy when you need sizable storage.
You easily keep various files, including video, images, and programs, in a single HDD without worrying about space shortage.
So, if you are looking for a suitable HDD for Windows 11 PC on the market, it is very time-consuming. Therefore, we picked out the best ones for you.
What should you know before buying a hard drive for Windows 11 PC?
Before buying the best hard drive, many factors such as transfer rate speed, capacity, and a reasonable price are essential.
For instance, the hard disk spin speed rate, measured by RPM (Revolutions Per Minute), varies between 1200 to 10000. The lower the disk rotation rate is, the slower the reading/writing process is.
Another critical factor to consider before buying an HDD for a Windows 11 PC is the capacity. HDDs have a higher storage capacity than SSDs.
If you want to buy HDD for gaming or archiving large files, the right choice is to pick up HDDs with higher capacities. However, if you are a regular desktop user, you should consider HDDs with lower capacities.
What are the best hard drives for Windows 11?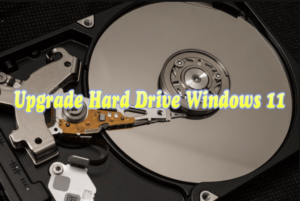 1. Seagate BarraCuda 8TB HDD
If you are a keen gamer, you probably won't ignore Seagate BarraCuda 8TB HDD. This hard drive comes with an astonishing capacity of 8 TB.
In terms of speed, it is enough to say that Seagate BarraCuda 190MB/s has a sustained transfer rate speed, which is above an average HDD speed.
Apart from the above competitive advantages, this HDD has some downsides, as received by buyers' feedback.
It is not a complete dead silent hard drive and makes some low-pitched whirring noise after working for quite a while. So, from the users' perspective, it's a huge shortcoming.
Also, you may face some locks up when HDD writes some files. As a result, overall performance might drop because of this issue.
2. Western Digital Black 4TB 3.5 inch
This hard disk, somewhat faster than Seagate BarraCuda 8TB HDD (7200 RPM), is superb turbo-like for many uses such as personal, gaming, and business uses.
Considering the capacity, it is a bit lower than giants like the 20 TB WD Enterprise Class HDD series, though its actual capacity varies depending on the operating environment.
The HDD design looks slightly bulky (measuring 5.79 x 4 x 1.03 inches) compared to the 2.5-inch version. This, however, did not prevent it from being ranked second on the list of best hard drives for Windows 11.
Apart from the above hallmarks, it has some cons. Western Digital Black 4TB can get hot because of rotating at a very rapid rate.
So, if there is not enough ventilation or airflow, it runs hot and becomes noisy. Also, it's significantly pricier (nearly $180) than WD Blue 4TB series.
3. Western Digital VelociRaptor 1TB
Although it is a low-storage HDD, Western Digital VelociRaptor has 10,000 RPM. This HDD is one of the front runners of the Western Digital production line.
Because of its high writing speed, the VelociRaptor is neck and neck with SSDs in reading-writing performance.
Using a SATA 6Gb/s interface backward, the challenger can also transfer large amounts of data at the 500-550MB/s rate in no time.
However, as reported by a few buyers' reviews, it has compatibility problems with some laptops, especially Dell. Also, VelociRaptor is quite expensive compared to several WD product families.
The cooling system outperforms Western Black 4TB with its icepack kit. Western company has decided to replace the heatsink with an icepack in this HDD series. The ice pack acts as a buffer to absorb the heat, making it cool faster.
4. Seagate IronWolf 6TB NAS
If you are looking for a 1 to 8-bay NAS-tech storage, IronWolf 6TB NAS is the right choice. It allows you to keep your files online in a centralized disk accessible to multiple users.
Therefore, you don't fret about files being lost. It is also suitable for NAS professionals and individuals craving to stockpile big files.
However, based on buyers' reviews, there have been issues with putting the drive into NAS servers such as Synology DS413j. Also, a few buyers reported that access time was higher than standard.
Contrary to Seagate BarraCuda 8TB, it has no vibration. Additionally, its spindle speed reaches 7200 RPM, making it a fuel-injected hard disk.
Also, a powerful 256MB Cache SATA turns it into a world-class HDD and one of the best hard drives for Windows 11.
5. WD Blue 2TB
WD Blue 2TB is one of the popular hard drives. Like most HDDs, WD Blue 2TB is valuable when you want to archive many files. Also, it is helpful for desktop users because of its remarkable storage capacity.
It enjoys a 5400 RPM speed that helps your PC run programs faster. When you compare WP Blue to its competitors, it is more affordable, costing nearly 60 dollars.
The recording head never comes into contact with the disk media, resulting in much less wear on both the recording head and the media, as well as improved drive protection during transport.
Importantly, a free version of Acronis True Image can be downloaded from the Western Digital Support site to backup all of your important data to your new WD drive.