Our dedicated team of experts at DSS recover RAID data and are trained to handle all of the current server hardware platforms as well as commonly used legacy systems utilized in the market today.
In spite of having complex fault-tolerant system, RAID Server can suffer a crash. Often, incorrect implementation of these systems lead to a point of malfunction which can cause data loss. Generally, this happens due to human error and not out of any shortcomings of the technology used or the design of the array.
However, whatever is the reason, you are at the Right place for your RAID Server Data Recovery Services. We have a lot of Happy Clients such as BSNL, Manipal Hospitals, Airtel, Bharat Petroleum & Lot more, who Love our Services.
We take care of your Storage Device as an Infant and give our best to recover 100% data for you, *if possible. If you are not sure about us, then check our "Google Reviews for Data Storage Solutions" to know about our Values and deliverables we provide to our Customers. Also check our Competitive Prices for different Media Types and Conditions for Raid Server Data Recovery.
// our Reviews
Customer Reviews & Ratings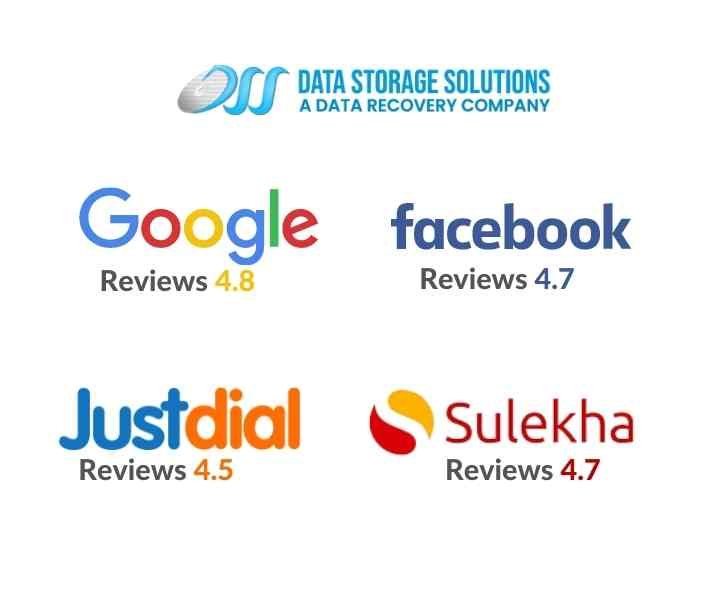 RAID is an acronym for Redundant Array of Independent (or Inexpensive) Disks. Actually RAID is a way of combining multiple physical disk drive components into a single logical unit for data redundancy (i.e. store the same data indifferent places), performance improvement or both. The disks can be combined into the array in different ways which are known as RAID levels.
Each of RAID levels has its own characteristics,
Fault-tolerance : has the ability to endure one or several disk failures.
Performance : shows change in the read and write speed of the entire array as compared to a single disk.
The capacity of the array is determined by the amount of user data that can be written to the array. The array capacity depends on the RAID level and does not always match the sum of the sizes of the RAID member disks.
Software RAID is one of the cheapest RAID solutions.
These days almost all the operating systems have an in-built capability to create RAID, though not for all RAID levels.
Windows home editions allow users to create only RAID 0, while Windows server editions allows to create RAID 1 and RAID 5. In dual Boot, RAID layout created through Windows is inseparably linked with the host operating system and thus its partitions cannot be used.
Software RAID is created based on the user's computer and therefore it uses the host system CPU for implementation. It should be noted, that in case of RAID levels 0 and 1, CPU load is negligible, but for the RAID types based on parity, CPU load can vary from 1 to 5 percent depending on CPU power and the number of the disks, which is also negligible for practical purposes.
There are certain limitations on the use of the software RAID to boot the system. Only RAID 1 can contain boot partition, whereas system boot is impossible with a software RAID 5 and RAID 0.
It is important to note that in most cases software RAID doesn't implement the hot-swapping and so cannot be used where continuous availability is required.
Hardware RAID is created using separate hardware. Basically, there are two options:
An economical RAID chip possibly built into the Motherboard.
An expensive option of Hardware RAID with a complex standalone RAID controller. controllers can be equipped with their own CPU, battery-backed up cache memory, and typically support hot-swapping.
Advantages of a hardware RAID over a software RAID are:
Doesn't use CPU of the host computer
Allows the user to create boot partitions
Handles errors better as it communicates directly with the devices.
Supports hot-swapping.
Bad Sector
Human error
Natural disaster
System malfunction
Virus attack
Data deleted
Multiple disk failure
Corrupted Raid Configuration
Controller Failure
Broken Array
Missing Partition
Volume corruption
Every single case of RAID data recovery that is received by DSS is handled giving the top priority for we know and understand how important for our client organizations. Our disk recovery process, coupled with our ability to produce a safe sector-to-sector dump of the complete volume, allows us to process an array as a collection of image files. RAID recovery procedure of crashed members of the array is similar to the hard drive recovery procedure.
DSS is an expert in all Disk Based Hardware and Software RAID Array Configurations, like:
RAID 0
RAID 1
RAID 0+1
RAID 1E
RAID 3
RAID 4
RAID 5
RAID 6
RAID 10
RAID 50
RAID 51
RAID 5E
RAID 5EE
RAID 7
RAID Z
X-RAID2
RAID0 – Based on striping. This RAID level doesn't provide fault tolerance but increases the performance (high read and write speed).
RAID1 – Utilizes mirroring technique, increases read speed in some cases, and provides fault tolerance the loss of no more than one member disk.
RAID0+1 – Based on the combination of striping and mirroring techniques. This RAID level inherits0 performance and RAID 1 fault tolerance.
RAID1E – Uses both striping and mirroring techniques, can survive a failure of one member disk or number of nonadjacent disks. There are three subtypes of RAID 1E layout: near, interleaved, and far.
RAID5 – Utilizes both striping and parity techniques. Provides the read speed improvement as in RAID 0 approximately, survives the loss of one RAID member disk.
RAID5E – A variation of RAID 5 layout the only difference of which is an integrated to rebuild a failed array immediately in case of a disk failure.
RAID5 with delayed parity – Pretty similar to basic RAID 5 layout, but uses nonstandard striping.
RAID6 – Similar to RAID 5 but uses two different parity functions. The read speed is the same RAID
IDE/ATA/PATA/EIDE, ULTRA/ATA 100
SATA, eSATA
SCSI(50 pin, 68 pin, 80 pin), iSCSI
SAS,Fibre Channel,USB
Firewire, SSD RAID Array data recovery
Server with RAID configuration
DAS (Direct Attached Storage)
NAS (Network Attached Storage)
SAN (Storage Area Networks), SAN Over IP
RAID ARRAY Manufacturers:
Adaptec
Compaq
Dell
EMC
Fujitsu
Hitachi
HP
IBM
Iomega
LSI Logic
Maxtor Max Attach
NEC
Quantum
Sun